Duncan Racing Banshee Dune Runner - Four-Wheeled Sand Cult!
We Test Duncan Racing's Dune Banshee
By Ray Gauger
Photography by Ray Gauger
Duncan Racing Banshee Dune RunnerFew ATVs have a cult following like that of the Yamaha Banshee. Maybe it's because few ATVs give the rider such a unique experience. The sound and visceral feeling of cracking the throttle on a twin-cylinder two-stroke was unparalleled back in 1987, and arguably still to this day. Even with the hostile takeover of high-performance four-strokes, Banshees are still the platform of choice for many duners, drag racers and hill shooters alike. The Banshee has definitely faded out of the mainstream into the realm of nostalgia, but it's not gone yet, and this Duncan Racing duner is proof.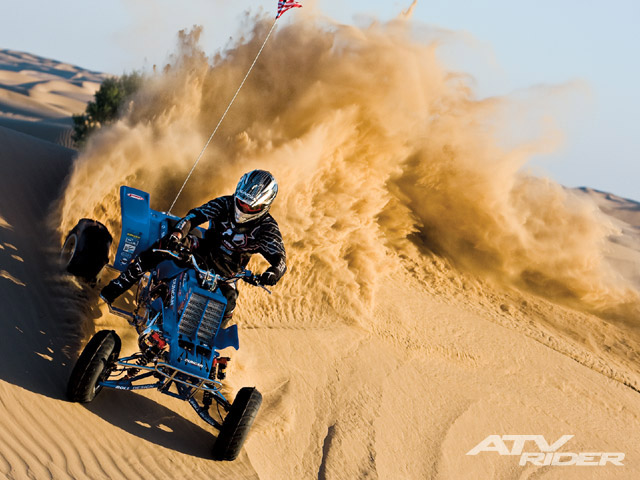 The guys at Duncan Racing International (DRI) have built their vision of the perfect Banshee. One that can smoke your buddies up the hill or on the drags but still handle well enough to carve through the dunes and soak up a huge jump or two. It's got enough bling to stand out from the crowd but not so much to make you feel guilty for riding it once or twice. Basically, it's the ultimate dream Banshee to take out and ride every weekend. We couldn't wait for the desert season to start, so we braved the 110-plus heat of Glamis, California, in the summer to see if this classic two-stroke could still hang with the new thumpers.
Suspension
Up front, the Duncan Banshee uses a Roll Design Lobo II front suspension kit. The kit includes Roll Design chrome-moly A-arms, which make the Banshee 2 inches wider than stock and have a "gull-wing" lower arm to allow for longer-travel shocks. Roll A-arms have become an industry benchmark for quality and design; they are fully adjustable, rebuildable and fabricated to withstand the harshest racing and riding conditions. Controlling the travel is a set of Elka triple-rate piggyback shocks, set up specifically for dune riding. The shocks give the front end more travel while letting the quad sit lower for more stability. This front end setup allows the Banshee to soak up deeper whoops and hard landings, as well as increases the stability and handling precision.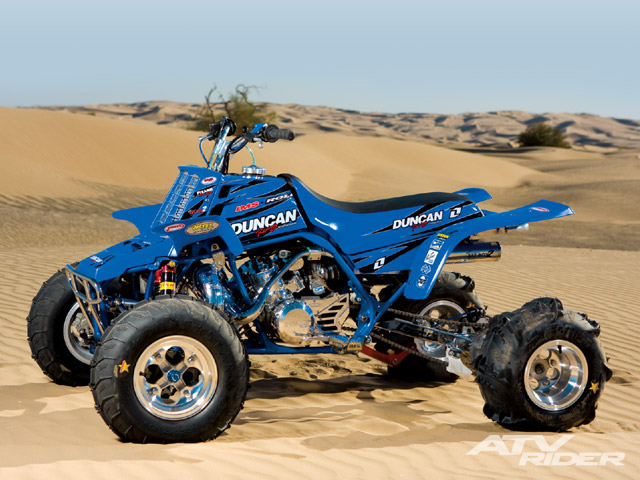 Out back, the Duncan guys went with a +4 Laeger's chrome-moly swingarm with a round housing bearing carrier conversion. With all the added horsepower, the extra swingarm length was needed to help keep the front end down near the ground and under control. While riding wheelies all day may sound like fun, it really doesn't help you win hillclimbs, and despite what your Uncle Eddie told you, it really doesn't look that cool, either. The bearing conversion allows for the use of an eccentric bearing carrier and eliminates the overcomplicated stock Banshee chain adjustment. The rear travel is controlled by a fully adjustable Elka shock and custom Elka linkage. This setup copes with the Banshee's relatively short rear shock to give you a bit more quality and quantity in rear wheel travel. The rear end also features an adjustable RPM Dominator axle, matching the width of the front end and giving the Banshee an even more stable ride.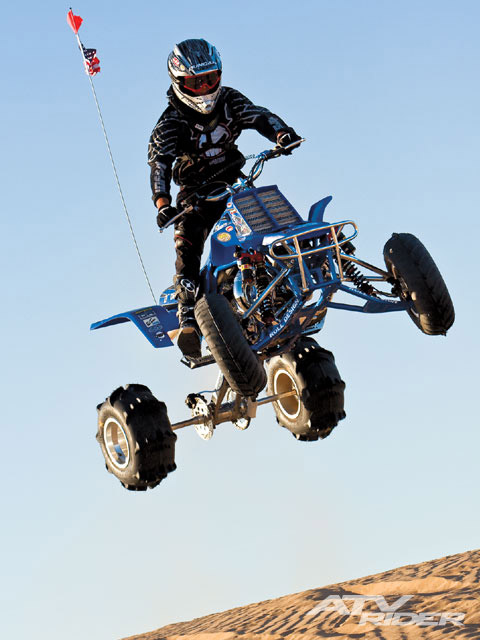 Normally, adding a longer swingarm adversely affects your ATV's cornering capabilities, causing it to push or understeer while turning. But the extra width and setup of the Banshee's Roll Design front end keeps the steering in check and allows you to ride and turn it just like you would with a stock-length arm. Case in point, our test rider was able to pitch the longer Banshee sideways and corner it almost like his MX bike. While this Banshee was built for drag racing, hill shooting and cruising the dunes, it's nice to know the suspension will let you carve a turn or soak up a hard landing if you need to-or just want to!
Engine
This Banshee features a slightly modified version of DRI's Eliminator engine kit. When we get done with the parts list, you'll understand why this is the perfect moniker. Starting at the intake, the Banshee utilizes a K&N filter with a Pro Flow intake flange. Next comes Duncan's Master Flow intake system, which is basically a redesigned boost bottle and intake boots for maximum airflow. The fuel-air mixture is controlled by twin Keihin 35mm PWK carbs that have been bored and polished with DRI's Super Flow mod. Replacing the stock reeds and cage are a set of Pyramid reed valves. The cylinders have been bored out, and in conjunction with the stroker crank, the Banshee's displacement is bumped up to 440cc. The extra 90cc of exploding fuel gives the Banshee all the low-end torque it was missing in stock form thereby allowing it to plow through the power-robbing sand with ease.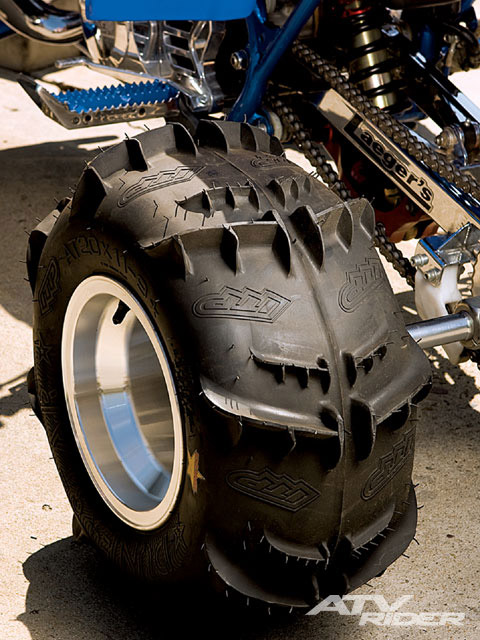 Duncan's cylinder porting is what really brings the motor package together. The port timing and flow is changed to place an emphasis on a wide powerband and work in conjunction with the stroker crank. Topping the cylinders is a Paul Turner Powerhead with custom domes. Finishing off the power package is a set of Paul Turner High-Rev pipes, hand-built and designed to maximize the Banshee's mid to top-end powerband, followed up by Fat Boy 2 silencers. A Vortex X10 CDI is used to maximize the ignition timing and allow you to change power curves on the fly. A Hinson clutch basket with straight-cut drive gear and DRI clutch kit are used to increase the reliability and longevity of the Banshee's clutch.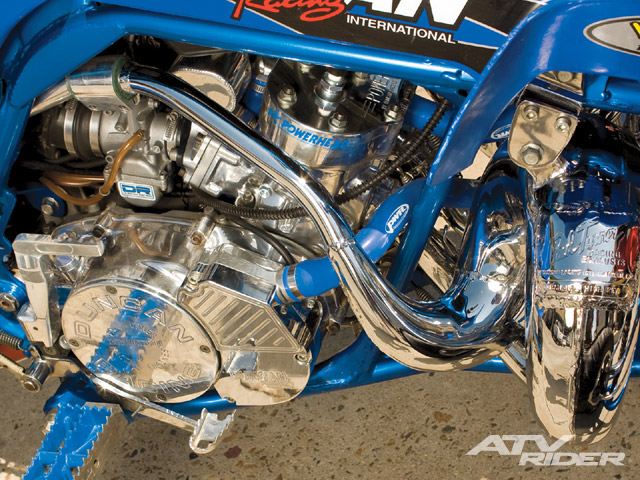 Just about everything that can, or should, be done to this motor, the guys at Duncan Racing have done it. You'd be hard pressed to find a faster and more reliable Banshee without swapping out the motor or running on alcohol. One thing to keep in mind when listing all these parts is that Duncan Racing developed almost all of them in-house. All the mods and bolt-ons were tested and specifically designed to work seamlessly together. The whole package was created to widen out the Banshee's powerband and give it more "ridable" power, not just increase the peak HP.
Finish, Braking And Tires
The Duncan duner is dressed to the nines with polished aluminum and chrome accessories. All of the motor polishing was done in-house, and most of the bolt-on shiny bits are available straight from Duncan Racing. The frame of the DRI Banshee is almost a work of art in itself; all of the unnecessary tabs were ground down, the welds smoothed, and the whole thing powdercoated a deep metallic blue.
The new ITP Dune Star tires provided plenty of forward traction, but we were still able to break them loose and slide into a turn with ease. The Dune Star's light carcass kept the unsprung weight to a minimum, helping flotation and suspension performance. Up front, the DRI Banshee has custom dual-piston caliper brakes to increase stopping power. With all the work in the motor department, it was nice to see Duncan beef up the brakes to match. The rear brake is stock but has an extended stainless brake line to reach back that extra 4 inches.
The Ride
OK, enough with the specifics, let's ride this beast! Starting up the DRI Banshee, you'll feel that extra displacement behind the kick, and once fired up, you're greeted with a slightly deeper and throatier growl than your run-of-the-mill twin 350. From the first crack of the throttle, you know this beast means business. The Duncan Eliminator kit makes the Banshee pull hard off the bottom, almost four-stroke hard. As you open up the throttle you'll find out where the majority of that money and motor work went. This Banshee has all kinds of midrange power on tap. That nice type of arm-tugging midrange where every stab of the gas launches the quad forward and simultaneously puts a smile on your face. Despite all its low and midrange ridability, the Banshee still has a ton of power on top and will pull a 17- or 18-tooth countershaft sprocket if top speed is your thing.
We railed some bowls, bounced off some whoops, launched off a few razorbacks (accidentally, I swear) and were constantly impressed with how well the DRI quad handled for a stretched-out Banshee. While it wouldn't cut a turn quite as sharp as, say, an LT-R, we definitely didn't feel limited by the extra length for a spirited romp through the dunes. The all-around performance and ridability of the Duncan Banshee's motor is mirrored in the suspension and handling. It has the width and travel to ride aggressively, the plushness to cruise and the length to be competitive at the sand drags or on the hill.
Final Thoughts
Believe us or not, we weren't missing our four-stroke duners much while tapping out miles aboard the Duncan Banshee. The explosive power from that wailing two-stroke provides for a unique and exhilarating ride; actually an experience that most will never get. While it doesn't quite have the super-wide powerband or precise handling of the newest thumpers, it comes as close as any 20-year-old two-stroke can. After our ride, we likened the Duncan Banshee to a perfectly restored and updated muscle car. It has a clean classic look, it's polished where it should be, and it has enough horsepower under the hood to back it all up.
Parts: Duncan Racing Banshee Dune Runner
Duncan Racing:
Eliminator engine kit: $3750; 443cc upgrade: $495; clutch kit: $179.95; pipe chroming: $180 per pair; pipe clamps: $60; flywheel mod: $85; Shift star mod: $25; billet water pump shaft: $79.95; quick-change clutch cover mod: $200; billet stator cover: $350; billet water pump cover: $79.95; billet dipstick: $39.95; YZ perch assembly: $60; billet shifter: $89.95; block-off plate: $15.95; chrome bumper: $179; front brake lines: $109.95; rear brake line: $39.95; billet front hubs: $499; billet gas cap: $69.95; billet master cylinder cap: $45; graphic/seat cover kit: $129.95; rear fender decals: $18.95; Vortex Banshee X10 CDI: $449
Roll Design:
Long-travel control arms: $1395.95; chrome-moly tie-rods: $89.95; chrome upper arms: $150; steering stem: $399
Elka Suspension:
Elite front shocks: $1525; Elite rear shock: $1045; dual linkage: $595
Hinson Racing:
Billet clutch basket with straight-cut drive gear: $699; billet brake pedal: $155
Pro Design Racing:
Pro Flow air cleaner kit (with K&N):
$110.95; cut-off switch: $34.95
PWR: Oversize radiator kit: $450
Motion Pro:
CR twist throttle: $18.95; throttle cable:
$29.95; clutch cable: $22.95
Tag Metals:
T2 handlebar: $94.95 (polished by DRI)
Laeger's Racing:
+4 round housing swingarm: $1595
RPM:
Dominator axle: $499; round housing carrier: $269
AC Racing:
Banshee grab bar: $39.95
DWT:
Quad-Rok wheels, 10x5 front: $54.99 ea.; 9x8 rear: $59.99 ea.
ITP:
Dune Star, 21x7-10 front: $55.95 ea.; 20x11-9 rear: $75.95 ea.
Maxima:
Castor 927 premix (32:1): $10.21 per 16 oz; MTL Endurance transmission oil: $8.97 per liter
Sunoco:
STD racing fuel